New Member Spotlight
Mark Heinzerling, Esq.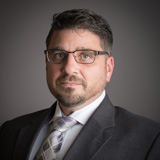 Mark is a lifelong resident of Ohio and attended Ohio University for his undergraduate degree. Mark then went onto Capital Law School here in Columbus obtaining his law degree. Mark has been practicing law since 1996 after passing the bar. While in law school he began clerking for Attorney Dean G. Reinhard, filing BWC claims and working in the law school clinic representing Social Security Disability clients. It was here that Mark began to see the very real problems injured workers face while the system refuses to assist them. Ever since, he has devoted his career to helping injured workers and veterans fight for and obtain the benefits they deserve. Mark is a member of the Ohio State Bar Association, Columbus Bar Association, National Organization of Veteran's Advocates. He limits his practice to helping people with Worker's Compensation, Disability claims (Social Security, Police and Fire) and Veterans/VA Claims.

Mark Heinzerling, Esq.
Agee Clymer Mitchell & Portman
226 North Fifth Street, 5th Floor
Columbus, OH 43215
Phone: (614) 221-3318
Fax: (614) 221-7308
mheinzerling@ageeclymer.com
www.ageeclymer.com